Saturday, November 12, 2011



- Posted using BlogPress from my iPad

Saturday, May 28, 2011
After not resting at all because some idiot was hogging the washing machine at the hotel, to wash 1 pair of shorts, we finished up packing and got ready for dinner.
I still had some wine left in the room so Brad and I had a pre dinner drink...
I'm trying not to fall asleep standing here...
Brad had clearly just decided to drink through his exhaustion. We went down to Ray and Mamala's room where we had another pre birthday cocktail...
Mmm I love Prosecco! And they also gave me, what might be the best birthday present ever...
Bone-GIORNO! Not only was it the most hilarious present, it clearly resulted in the best picture of the trip.
We then decided to go to this little restaurant we had been to before that was delicious. And for my present Brad was treating us to a full Italian meal including all the courses, yum!
First we started with meat and pizza...
So good, and then we moved onto the pasta course...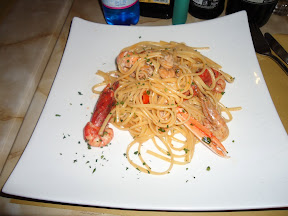 Linguini with Scampi, OMG it was amazing! And then we moved onto the last course, the meat course...
It was sliced beef with special bacon and tomato and rocket, jus delicious. And now you can call me Jabba the Hutt because I am too fat to live! And we had the hardest working waitress in Rome...
It has been an amazing few weeks, memories to last a lifetime...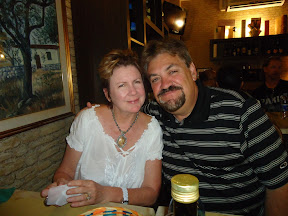 And that is what life should be about...
Spending quality time with people that you love! That and GELATO...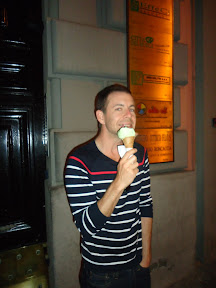 Mmmm dairy...
But all good things must come to an end! Tomorrow we have a car picking us up at 5am to take us to the airport. Brad, Ray and Mamala are flying back to Los Angeles, whomp whomp!
I however am continuing my European Travels with my friends Jeff and Adam in the UK and Paris!
I hope you've enjoyed this blog as much as we had living it, and if you want to follow me and my idiot friends on our adventures, here is the link to that blog.
Http://www.stabbeyroadtrip.blogspot.com
Enjoy and ciao!!
Posted using BlogPress from my iPad
Location:Rome Italy
In case you didn't know, today is my 33rd bday and Brad surprised me at midnight with a "cake"...
What a sweetheart! It was really a Mars bar but it was an awesome surprise! Thanks B, love you!
This being our final full day in Rome I saved the best for last. We booked a private tour of the Vatican, the Sistine Chapel and St. Peters Basilica. We met up with our tour guide...
For the life of me I can't remember his name, so we will call him Stefano! Stefano was amazing and we learned this right off. Th bat when he made one call and we got to skip this...
We were told it was a 3 hour wait just to get into the Vatican Museum!
No, there is no time for that! Also as soon we we got in, we got these fancy headset thingies so we could hear Stefano...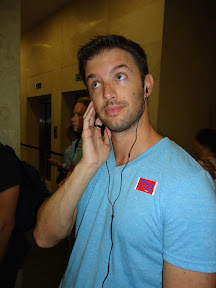 There was waaay to much to see at the Vatican museum, but I'll try and give you the highlights...
Vatican city is a lot bigger than you think, but it is still the smallest country in the world...
Apparently one of the old popes was Al Capone...
According to Stefano, this cafe is the worst pizza in Rome...
The Vatican guards work really hard as well...
And this is a famous pinecone, and no that part is not a joke but I really thought it was...
And then there are all the statues...
This is the hall of statues, enough said...
When Christianity became the major religion of Rome they cut off all the boy parts from the statues...
Except this guys jumbo junk because he was Priapus, the God of Fertility. He was sort of like ancient Viagra!
Now that the important stuff is out of the way, there was also a lot of art and stuff too...
This was the map room because it was well, full of maps. The Italians aren't big on subtlety. Also the ceiling was pretty awesome.
Then we moved onto all of the paintings by Raphael, which were also pretty spectacular...
Raphael was so impressed with Michaelangelo and his work on the Sistine Chapel, that he put him in some of his paintings. He is the bored looking guy in the front. And I know it's childish, but all the names of these guys just made me think of the Teenage Mutant Ninja Turtles.
Anyhoo on with the tour! We next went into the Sistine Chapel, but we weren't allowed to take pictures in there. Ray didn't even risk it because there was a guy constantly yelling "SILENCE PLEASE, NO PHOTO!!!"
Which when you think about it, he was really the only one making all the freaking noise, so if he just shut up, it would have actually been pretty quiet.
The last part of the tour was St. Peter's Basilica, and WOW it was way bigger and more impressive than I thought it would be...
The way the light bounced off everything was jus beautiful...
It was like the ceiling was made of gold...
This is the inside of the big dome...
That is the light coming in through the central occulus, just beautiful...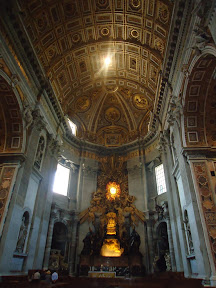 It is really just a breathtaking place...
They had also just moved the body of Pope John Paul II into the Basilica. It was obvious that Italians really loved him because his image is everywhere, and I honestly don't remember seeing a picture of the new Pope anywhere.
After we left the Basilica we went out into St. Peter's Square. There we got an awesome view of the Basilica...
Amazing...
Basilica Monkey Arms...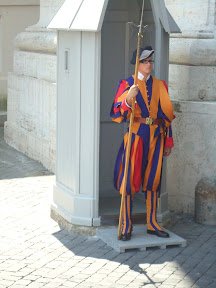 And this is the Swiss Guard, the Vatican Police. The uniform looked familiar to me and then it hit me...
See! For those of you not in the know, that is the Uniform for the fast food joint Hot Dog on a Stick!
Speaking of hot dogs we were starving! So we parted ways with Stefano and went to get some food...
We were pretty exhausted and starving...
More exhausted than starving clearly, but the food was delicious, as usual...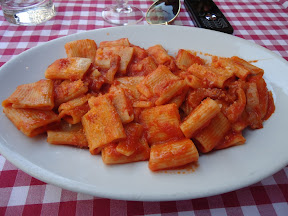 Bucatini with prosciutto and tomato...
And Mamala had her linguini and clams! So good! Now we are off to pack and relax before the fam takes me out for a birthday dinner! Ciao!
Posted using BlogPress from my iPad
Location:Rome Italy
Thursday, May 26, 2011
Even though it looked like it was going to rain, it never did. So that was great except we and about 500 other people all got yelled at by this traffic cop...
Because apparently we were not following the traffic rules, except here is the thing, in Rome, THERE ARE NO TRAFFIC RULES! It is a complete free for all.
Eventually we did find Piazza Navona and again, just amazing and huge...
So many huge things to see in Rome...
But it was way crowded and touristy...
So you know what that means...cocktail o'clock! We found this cute little place right in the Piazza...
Cheers...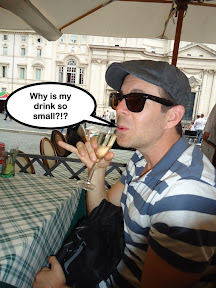 Brad's drink was like baby size, maybe from that baby bar from earlier...
Mamala tried and failed to hide her beer...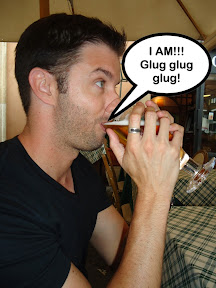 I was fine with my "medium" slash jumbo beer...
And apparently Brad's thimble Prosecco was pretty potent...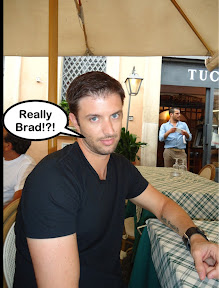 After cocktail hour we decided to wander around some more before dinner. That is where the weirdos came out...
Uhm ya there was no wind...
And this guy was like a weird creepy Cowboy/Statue/Vampire guy...
But Mamala took care of it...
Mamala also saw a cute neighborhood just off the Piazza...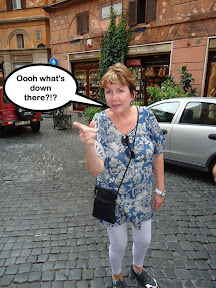 And Mamala did not steer us wrong because at the end of the street we ran smack into the Castel San Angelo...
I mean really...
And we also had a nice view of the river that runs through Rome...
And that is the Vatican in the background! We are going there tomorrow for my birthday. The sun was starting to set and it was just magical...
Again its like living in a postcard...
Just too much...
I really don't want this trip to end...
It's been an amazing couple of weeks! But now let's get to the rude part of the night. We found this cute restaurant back in the little quiet square, it looked perfect...
I mean look how cute...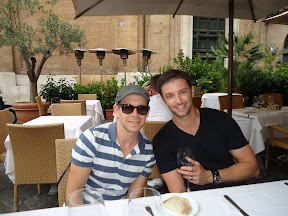 There were even real priests from the Vatican there having cocktails...
But that is where the cute ended...
Because our waiter was a grumpy old douche! I didn't get a picture of him, but here is an artists recreation...
He was rude and got our order totally wrong! Thankfully he could mess up the food when it finally all came out...
Carpaccio with Buffalo Mozzarella...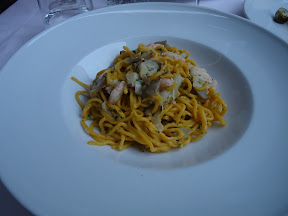 Spaghetti with Scampi and Artichokes...
Chicken with Pink Grapefruit, yum! So that was fine and then I tried to pay and Grumpy McOldFart came out with the credit card machine and when it wouldn't swipe my card he said he couldn't input the number manually.
Uhm ya what a load of crap, so I won in the end because on our bill of 141 euros, I left him the change which was 3 euros, and if you ask me it was 3 euros too much!
I was a wee riled up after this so to calm me down, you guess it, GELATO!!! And this might have been the best pistachio gelato I have ever had...
Mmm nutty green goodness...
That's all for tonight, off to go relax since we have to be at the Vatican at the crack of dawn to get our Catholicism on! Ciao!!
Posted using BlogPress from my iPad
Location:Rome Italy