After not resting at all because some idiot was hogging the washing machine at the hotel, to wash 1 pair of shorts, we finished up packing and got ready for dinner.
I still had some wine left in the room so Brad and I had a pre dinner drink...
I'm trying not to fall asleep standing here...
Brad had clearly just decided to drink through his exhaustion. We went down to Ray and Mamala's room where we had another pre birthday cocktail...
Mmm I love Prosecco! And they also gave me, what might be the best birthday present ever...
Bone-GIORNO! Not only was it the most hilarious present, it clearly resulted in the best picture of the trip.
We then decided to go to this little restaurant we had been to before that was delicious. And for my present Brad was treating us to a full Italian meal including all the courses, yum!
First we started with meat and pizza...
So good, and then we moved onto the pasta course...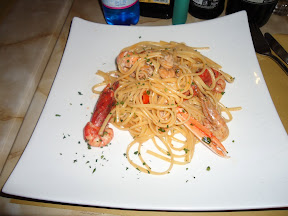 Linguini with Scampi, OMG it was amazing! And then we moved onto the last course, the meat course...
It was sliced beef with special bacon and tomato and rocket, jus delicious. And now you can call me Jabba the Hutt because I am too fat to live! And we had the hardest working waitress in Rome...
It has been an amazing few weeks, memories to last a lifetime...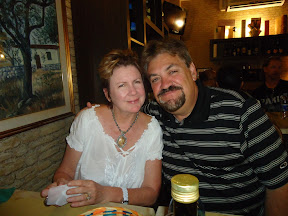 And that is what life should be about...
Spending quality time with people that you love! That and GELATO...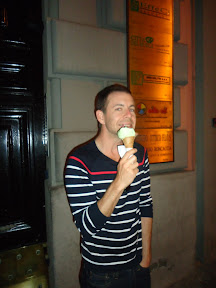 Mmmm dairy...
But all good things must come to an end! Tomorrow we have a car picking us up at 5am to take us to the airport. Brad, Ray and Mamala are flying back to Los Angeles, whomp whomp!
I however am continuing my European Travels with my friends Jeff and Adam in the UK and Paris!
I hope you've enjoyed this blog as much as we had living it, and if you want to follow me and my idiot friends on our adventures, here is the link to that blog.
Http://www.stabbeyroadtrip.blogspot.com
Enjoy and ciao!!
Posted using BlogPress from my iPad
Location:Rome Italy