After picking pottery pieces on the beach we relaxed for a few hours and then Mamala and Ray cam over for some pre dinner cocktails...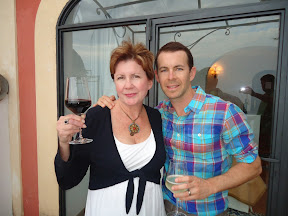 We were all a little somber tonight seeing as it was the last night in Positano...
But we figured wine and Limoncello would help...
Look we're all smiles now! And also awww...
After finishing cocktail hour we headed to say goodbye to Rosita, she has been an absolutely wonderful host...
And as if she couldn't get any cuter, she asked us if we could be Facebook friends! I just can't handle how cute everyone and everything is here. Mamala was so taken with Rosita she playfully asked her if she wanted to make out...
Brad was a wee bit embarrassed. After saying goodbye we headed to our restaurant, that Rosita recommended. Along the way I couldn't help but do one more bit...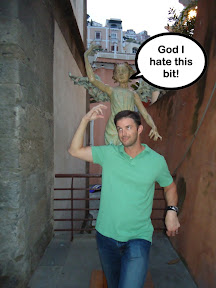 That was a complicated pose, let me tell you! We got to the restaurant and it was super cute...
One last perfect evening...
In a perfect place...
And it smelled amazing because of the Jasmine bushes everywhere. Oh and the food was pretty great too...
Mmm rack of lamb with white asparagus...
And veal wrapped in bacon! YUM!! As if the night couldn't be more perfect it ended with a pair of musicians serenading us on the mandolin. So precious!
Thats all for Positano, off to Rome in the morning, ciao!
Posted using BlogPress from my iPad
Location:Positano Italy