We woke up this morning feeling surprisingly chipper considering that we drank an entire liquor store last night. We were slow moving though, not because we were hungover, but because it is our last full day in Positano...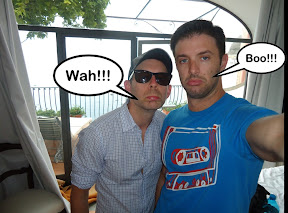 How can you leave a place that looks like this...
It is just so peaceful and relaxing here, you can't even believe that it's a real place. After breakfast we decided to do a little shopping. The main shopping street is lined with beautiful flowers, of course it is...
It is beyond quaint here...
Brad and I ended up buying some pottery here, that was this really vibrant red color, like these plates...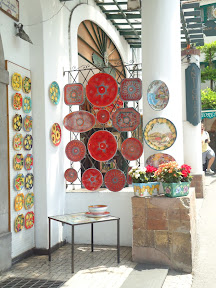 It is beautiful and free shipping, score! After getting our shop on we grabbed a cocktail...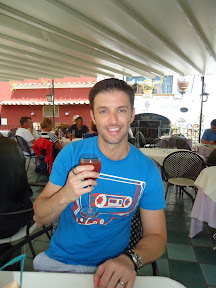 Mmm Prosecco with fresh strawberry puree...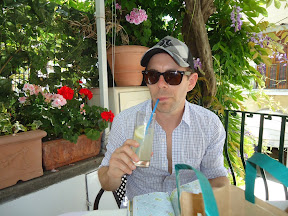 And lemon soda! As we were walking back down to the beach, Mamala resurrected a classic bit, the statue impression...
And Ray joined in, helloooo it's me...
Then we split up, Mamala wanted to shop some more and Brad and I decided to walk down to a more secluded beach. It was a really pretty walk...
Aww, why can't we just stay here forever...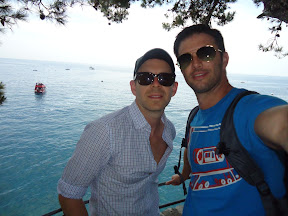 Eventually we got down to the beach and it was relax o'clock...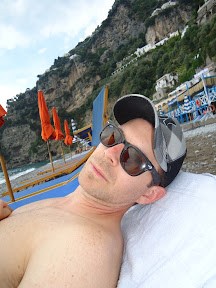 Such perfection...
I mean look at the view! While we were just started dozing off we heard a distinctive laugh, and sure enough...
Ray and Mamala had the same idea as us! Great minds think alike.
After lounging around for a while, Brad and I decided to go look for pottery shards, because like I said yesterday, we are currently living in a Merchant Ivory film.
The shore is all pebbles and if you do a little digging you can find all these colorful pieces of pottery or sea glass scattered around...
We wanted to find enough cool pieces to maybe make a picture frame with...
It took a little bit of searching...
But I think we found enough pieces...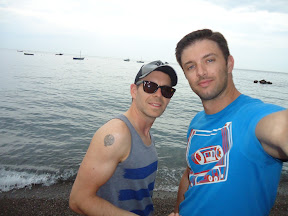 Not bad for a little bit of effort...
After the beach we had to walk back to town, up more stairs. They call Positano the city of stairs and they ain't lyin...
But then we came across this little place that we remembered our hotel manager Rosita told us had the best pizza in town. Hurrah! So we went inside and while we waited for our pizza we met Renata...
That isn't her, that is he voluptuous woman on the cover of the pizza box, but since I didn't get a shot of Renata, this will have to do. Anyway, Renata was amazing, she told us a story of Naomi Campbell getting all Diva on the island and how her private boat driver left her stranded on the island because she was late, and most likely because she was an asshole to him too.
Finally our pizza was ready...
And...
O...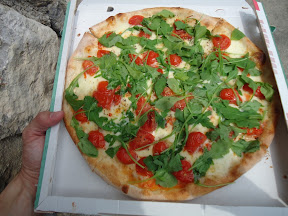 M...
G...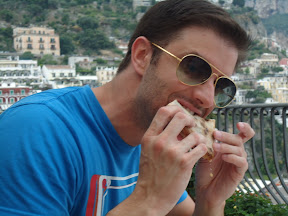 Rosita was not kidding! Amazing pizza! Now we are going to just relax on the balcony for a few hours before our last night in Positano, ciao!
Posted using BlogPress from my iPad
Location:Positano Italy