This morning we met up for a quick bite at the hotel and then we decided to go to Murano. It is an island just off the coast of Venice that is known for it's hand blown colorful glass.
We walked through Piazza San Marco to find the right vaporetto to take us over there. Brad with his eagle eyes spotted a man with some papers in his hand for free rides to Murano!
Next thing we knew we were on a free private taxi to Murano, and not just the regular ones that the commoners and local riff raff have to use, but a big pimpin private taxi...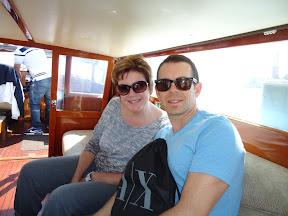 Well done B-rad. So we took off for Murano and about half way there we saw this...
I missed part of it because I was a little creeped out but in huge writing it said "something strange happened here". Great apparently we are about to star in the next installment of Hostel, Hostel:Venice!
Thankfully our vaporetto driver was not a closet serial killer and we arrived safely at Murano...
Look how relieved we are...
So since we are big time we were met at the dock by a lovely little gentleman who escorted us to the private tour area, where we got to see them actually blow glass.
Once back there we were met by our used car salesman, I mean tour guide. We'll call him Giuseppe. Giuseppe started talking about the "Master Glass Blower" and everything he does to make the glass...
Every other sentence started with "the Master himself...", kind of like Brad and his Doge stories, great! The other problem is that when you think of "the Master" it invokes these images of grace and power and stature, and this is what the "Master" looked like...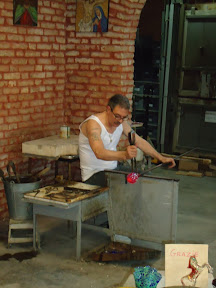 He sort of looks like Mr. Roper...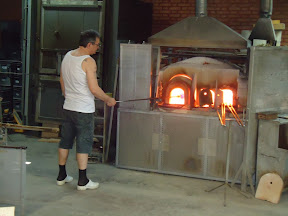 It was impressive to see him work, but I mean, wife beater, shorts, black socks and crocs, at least make an effort dude!
Next we were taken upstairs by Giuseppe to the "private collection" so we could shop. Uhm yeah here's the thing, the cheapest thing there was like 3000 euros! So we pretended to wander around like we were interested, I mean we were big time of course, but then when Giuseppe turned around we ran for it!
Once outside we were free to be ourselves once again...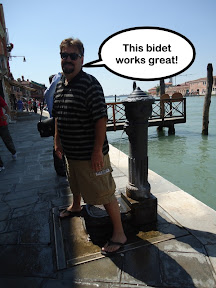 And since we were no longer big time we had to take the public transport boat back to Venice, ugh! Once we got to the dock, there was not a stand to buy tickets, so me being the rule follower I went into a mild panic.
Brad and Mamala both said, meh, we'll just get on, no one is going to notice. Here's the thing, anyone who knows me, knows that I do not like to break the rules, it makes me really REALLY uncomfortable. See...
Thankfully no one came to ask for our tickets and we were not thrown into the ocean like the deviant stowaways that we were. Ad I do have to admit that it was a wee bit thrilling breaking the rules.
Plus we got a pretty nice view of Venice as we came back to the city...
That's all for now, off to enjoy our last afternoon in Venice. Ciao!
Posted using BlogPress from my iPad
Location:Murano, Italy