Again we were a little slow moving, but this time we ended up missing the breakfast downstairs, but have no fear, we grabbed something on the way...
Prosciutto and Mozzerella, breakfast of champions! So today we are going to see something that I have been dying to see for years...
Oh yes...
The Colosseum!!! And crap is it more impressive than I thought it would be...
I mean it is absolutely massive...
It was a little on the touristy side but thankfully I had pre booked tickets so we got to skip the hour long queue to get tickets, yeah buddy!
Yay group shot...
Once inside it was just so cool to see something that old still standing...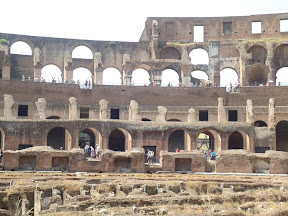 For those of you not in the know, one of my degrees is in classics, so it was really neat (yes I just said neat) to see it in the flesh so to speak...
And this part down here is where they housed the animals and gladiators before they went to battle or their death...
Allegedly there are still blood stains in some places...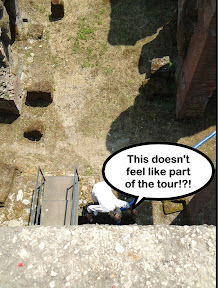 I think that guy made a wrong turn somewhere, careful, they might throw you to the lions!
After walking around the first level, we headed up to the upper level...
Great more stairs! And steep ones too, yippee! The view from up there was worth it though...
Gladiator Monkey arms...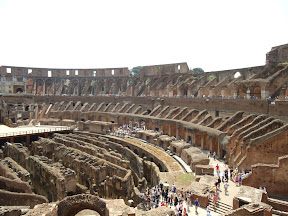 And this is where I slowly started to lose Brad. Like I said we were pretty slow moving today and Brad is pretty much allergic to Rome, so he was kind of over the day at this point and over me taking pictures.
And so were some of the locals weirdly enough...
After the Colosseum we headed over to the Palatine and the Roman Forum, which is the heart of the ruins of Ancient Rome...
I mean look at this history, these buildings are 3000 years old give or take 500 years...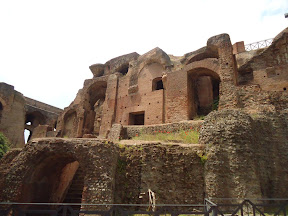 This was part of the old senators quarters...
And it had a great view of the Colosseum...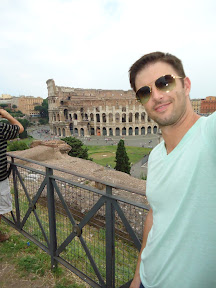 And this is the archway to the Via Sacre, this was the main road to Ancient Rome, out of nothing you saw this and the Colosseum, pretty amazing right...
More of the ruins along the Forum...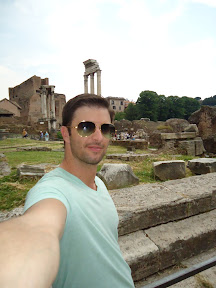 It was so cool to see...
But just like Rome crumbled, here is a visual retelling of Brad crumbling today...
That was walking into the Forum...
Brad was clearly not interested in the Ancient stadium behind us...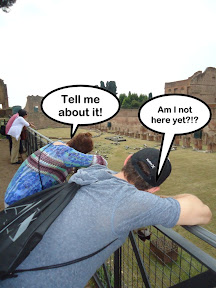 Brad's enthusiasm was clearly becoming contagious...
This was about as excited as he got today...
Oh wait I lied...
I tried to put him in check...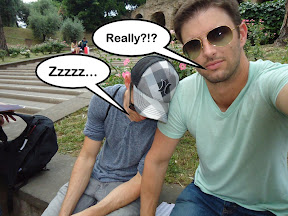 I failed because this is the moment that he fell asleep on my shoulder, REALLY?!?!
After that, luckily for him it started to rain so we went back to the hotel to relax. Off to chill for a few hours before dinner tonight, ciao!
Posted using BlogPress from my iPad
Location:Rome Italy