After having a little down time, we started getting ready for dinner tonight. Brad, having mildly mocked me for being confused by the shower of death, decided to shower tonight instead of taking a bath. Needless to say, all I heard was ahh and oh God from the bathroom...yeah shower karma my friend!
Anyhoo we got ready and it was off to dinner...
That's our room key, it comes with tassels, of course it does...
I think I'm too gay to function in this picture. We decided to go eat near the Rialto bridge tonight...
Again it's so beautiful here we took some time to enjoy the sunset before we went to dinner...
As we were taking pictures, we saw this restaurant...
It was kind of hard to see, but here is a better look...
Uhm ya, fly around the world to go to a restaurant named for the state you're from. We figured it was too much of a coincidence and it made me think of Mama and Papa Burke who we wished were there to join us for dinner.
We crossed the bridge heading for Ristorante Florida when a thing happened. A waiter from the restaurant next door started serenading us and the next thing we knew we were sitting at a table. I cant remember the name of the restaurant or waiter, so for the purposes of this story let's call it Ristorante Georgia and our waiter will be Luigi...
This place was definitely charming too and the menu looked promising...
So we ordered half the menu and reminisced about everything that we saw today...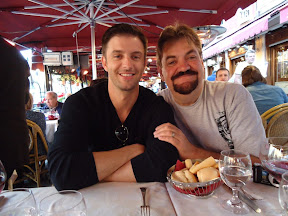 Oh and this is Luigi I had to do a sneak attack while he was taking an order at another table...
Back to food, this showed up first...
Buffalo mozzarella and prosciutto! God I'm gonna be fat when I get home. And then this came next...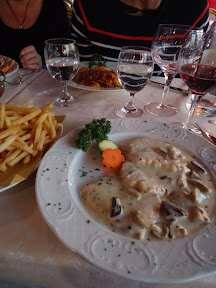 Veal Scallopini and grilled prawns. Everything here tastes so fresh you can't help but overeat and over drink.
After dinner, we were deciding what to get for dessert, when we noticed one of the other waiters, we'll call him Mario, because he was just as ridiculous as Luigi so clearly they must be related.
As customers walked by he was putting a bottle cap in one eye because somehow he thought that would get them to sit down. Well it didn't, but it did succeed in getting us to point and laugh at him. The next thing you know he swoops over to our table and B-rad and Mamala are doing bits wi Mario...
That's Mario in the corner taking Mamala's picture...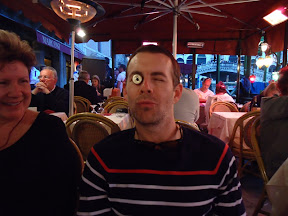 And here is B-rad playing the part of the Monopoly guy. It was another amazing meal finished off with Tiramisu and dessert wine. After we stuffed our gullets we took one last walk across the Rialto Bridge...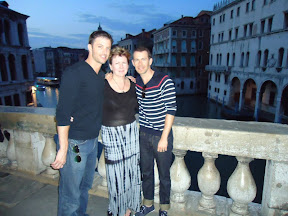 And then strolled through the city at dusk, which is more magical than during the day if that is even possible. I was so quiet you could hear yourself think...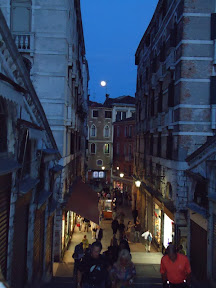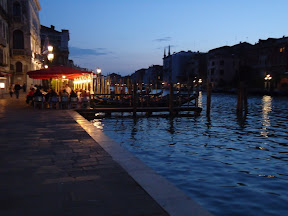 Off to bed now, hitting up Murano tomorrow for some blown glass (insert joke here). And speaking of jokes, this hotel is apparently where the funny is at...
That's all I got, off to bed, Ciao!
Posted using BlogPress from my iPad
Location:Venice, Italy