While we were resting at the hotel, huge thunderstorm broke out, one that almost shook the cute off our little hotel...
Everybody in the Piazza scattered like ants...
Thankfully the storm didn't last too long and we were able to go out and enjoy our last night in Florence..
It's crazy but the rain made Florence look even more beautiful if that is possible. Everything was so clean and then the sun started to set...
Beyond beautiful. Oh and that was one of 7 million scooters that have nearly run me over this week...
It's like the people of Florence live in a postcard...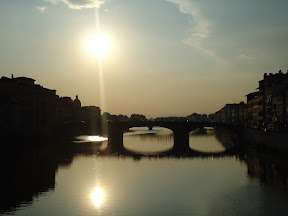 Just perfection! After watching the sunset we walked back over to the Palazzo Pitti to this restaurant we tried to go to last night. Sadly it was booked but tonight we had a reservation...
Mmm the Pitti Gola e Cantina is not only a restaurant but they are known for their wine selection...
That's the Palazzo behind us...
And this is when Mamala fell in love with our waiter Eduardo...
That's a sneak attack picture. He is the one on the left. He was so nice and charming, Mamala was in love...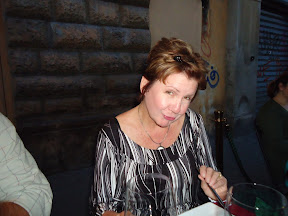 I was in love with the wine and food, beyond delicious, the best food we have had on the trip so far, though Brad will argue that his Ossobucco from the first night in Florence was the best. We started with this...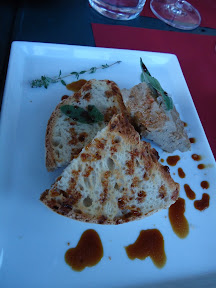 Pate with grilled olive bread...
And crispy pasta squares with zuchini in a Pecorino sauce with fresh basil. I can't even describe how amazing this was! And then the main course came...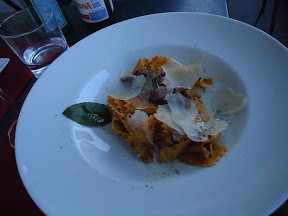 Homemade Paparedelle with a Beef Stew Ragout! Phenomenal...
Mamala got homemade tortellini with fresh ricotta, spinach and shaved truffles...
Oh and there was plenty of wine a flowin...
Eduardo was also a sommelier and he was babbling about the Chianti region. Mamala just stared at him with stars in her eyes, I just wanted more Chianti and Ray was doing a pretty amazing impression of Mamala...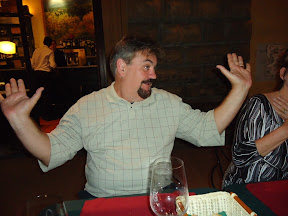 Well hello Eduardo...
Brad couldn't stop either being embarrassed or cracking up. Once again we were having a great time...
Aww...
Really Brad...
That's better! We finished up dinner with a second bottle of wine and an awesome cheese plate...
Yay Lactaid! And speaking of that we went back to our favorite Gelateria with the Cutest Gelato girl who giggled like a Japanese school girl when she saw us come back in...
Big pimpin Ray...
Peaceful Mamala and Brad...
Dairy filled Keith!
That's all for Florence, thanks for an amazing few days! Off to some fun in the sun in Positano tomorrow, ciao!
Posted using BlogPress from my iPad
Location:Florence Italy