I woke up this morning at like 5am and I just couldn't fall back asleep, and why sleep when this is what you wake up to...
So I grabbed my blanket and went and sat on the patio and watched the sun come up...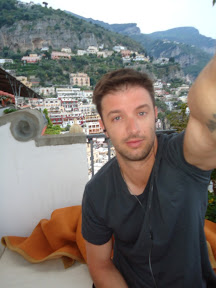 I can't get enough of this view, can you blame me...
That early in the morning there was not a soul in sight, it was so peaceful. Eventually Brad got up and we headed down to the dock because we decided to go on a day trip to Capri.
Brad's parents decided to skip the day trip in favor of just relaxing in town. And good thing they didn't come, our driver was a little on the ridiculous side...
Oh yeah clearly we are safe in his capable hands and or feet! The ride was beautiful, but kinda freezing because it was like 9 in the morning...
I don't know if that is cold Brad or Zoolander Brad.
Part of our excursion was to stop at several places around Capri before we got to the island...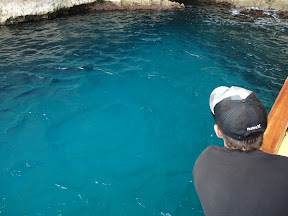 This is the Blue Lagoon, where's Brooke Shields? It was super clear...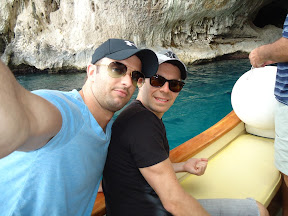 Aqua Monkey Arms...
This was some famous rock with a whole in it, I have one idea what its called, and I'm not sure that our driver did either...
It was pretty cool and our crazy driver drove right through the middle...
Yeah our driver was a little nuts, here he is not driving, while the boat was going full speed...
Really? And we almost perished here too...
The water was pretty spectacular which was great because we were clearly going to be in it soon...
It doesn't look real...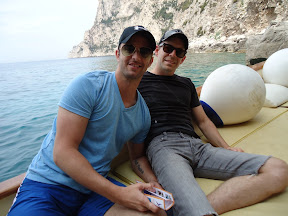 Oh and here is our driver, not driving again! REALLY...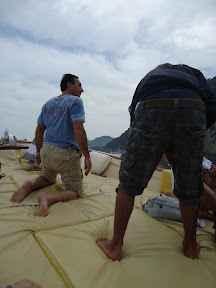 But thankfully we didn't perish...
And we finally made it to Capri...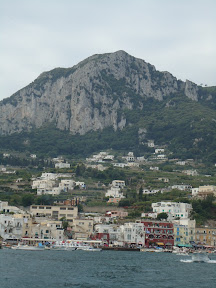 Except Capri was really crowded...
And they crammed us into this thing like Sardines...
We took a crowded tram up to the town center...
And anyone who knows me knows that I love to people watch, and WOW there was a lot to look at in Capri! There was this woman who was nipped and tucked within an inch of her life...
If her skirt was any shorter, this would be an R rated post...
I'm pretty sure she is incapable of facial expressions. And then there was this kid...
He was all by himself playing in his Mother's store, and we are pretty sure he was playing Cowboys and Aliens...
Brad had named him Guiseppe and planned on taking him home with us...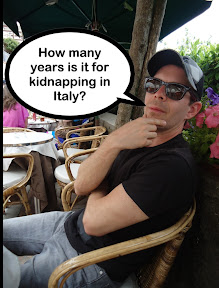 All in all another great day...
Now we are heading back to Positano...
To relax...
And maybe get our drink on...
Ciao!
Posted using BlogPress from my iPad
Location:Capri, Italy