After Capri we came back to the hotel to relax and ran into Krista, Brad's friend form LA who unbeknownst to us decided that she wanted to go to Positano and ended up at the same hotel as us, right below us!
It's moments like that when you realize the world works in mysterious ways. After saying by to Krista we decided to go for a walk on the beach...
And in case you want to change into your swimming costume they have these...
It's like you step back into the 1920's when you get here...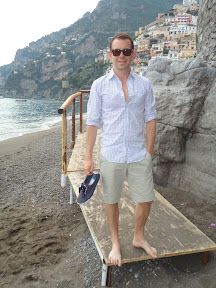 Barefoot B-Rad...
Barefoot Burke...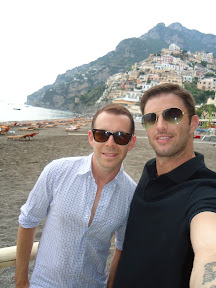 And this is looking back at our hotel...
Ridiculous! The other thing that is ridiculous is the beach, there are pottery shards everywhere and they hurt like hell when you walk on them. We are going to pick pottery shards tomorrow along the beach because apparently we are now living in a Merchant Ivory film.
After making ourselves nearly bleed we needed some mojitos, and by "some" I mean a billion...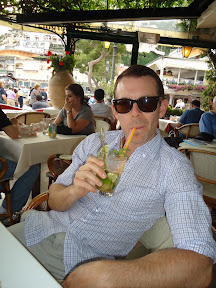 Cheers...
Did I mention that we barely had anything for lunch...
It hit Brad first...
Round two...
Brad had a theory that the bendy straw meant they were cutting us off soon, he might have been right I can't remember...
Round three, oh God...
And here is where it got fuzzy...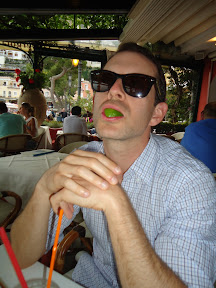 And here is where I lost Brad...
And here is where they kicked us out! But not before we saw this woman, filming herself with a camera on a stick...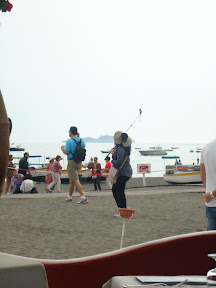 Which would be weird but quasi acceptable if she were by herself, except...
Except that is her boyfriend joining in on the stick video-ing! Amazing! After leaving the bar we stumbled to the shop nearby and got sandwiches to help sober us up...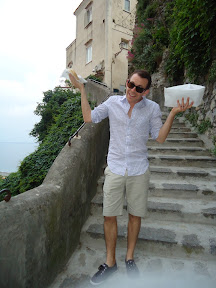 But we couldn't help but enjoy the view one more time before heading to the room...
Did I mention there is Limoncello chilling in our fridge, oh God! CIAO!!
- Posted using BlogPress from my iPad
Location:Positano Italy