I couldn't sleep last night, maybe it was because I was sad about leaving Positano or because I had a premonition of events to come...
We grabbed quick bite in the breakfast room before leaving...
We were supposed to leave at 11.30 but the front desk called and apparently someone broke the road to Napoli, so we had to leave an hour early to take "the other road". I smelled a disaster a brewin.
We met our driver Franco, and he was actually more hilarious than Cosmo our previous driver. I'm not kidding when I say this, Franco knew EVERYONE in town, he stopped every 3.2 feet to say hi to someone, it sorta looked like this...
He even knew the mayor, who kinda looked like this...
Only a little chubbier. So after the 3 years it took us to get out of Positano, because Franco stopped a few times, and I'm pretty sure one of the times was to buy lottery tickets, we started on the other road to the train station.
And this is where we need to talk about the roads and drivers in Amalfi. Basically the road is about 5 inches wide and about 1000 miles in the air, so already I was freaked out.
But no one in Amalfi seems to flinch when the cars just don't fit on the road, so driving in Amalfi is kind of like this...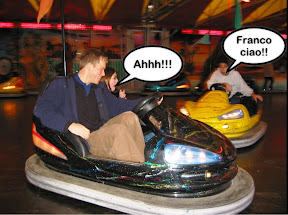 Mixed with this...
With a dash of this...
And a whole lot of this...
But thankfully we were in the capable hands of Franco, who safely, and by safely i mean scarily maneuvered through all the towns.
He even pointed out some sights along the way, including Sofia Loren's house...
Eventually we made it to Crappoli Centrale, I mean Napoli Centrale...
And now we are on our way to Rome...
That's all for now, ciao!
- Posted using BlogPress from my iPad
Location:Positano, Italy to Napoli, Italy