After relaxing in the room for a few hours we got all dolled up and headed out to grab a bite to eat. Last night before we ended up at the Rialto for dinner, we tried to find this place called Da Mamo for dinner. It apparently has the best pizza in the city.
Well it may have the best pizza, but it is also the hardest place in Venice to find. It doesn't help that Venice was clearly designed by either a blind man or someone with a really wicked sense of humor because even if you are from here you still have no idea where you are going.
Anyhow tonight we were determined to find it after failing last night. Brad and I walked out of our room and promptly locked our keys inside...clearly we were off to a bad start!
After wandering up and down streets for about 15 minutes, lo and behold we found it...
Hallelujah! I was such a cute place with only about 7 tables.
We all order pizza except for Ray who got a calzone, oh and we got some prosciutto e melone for the table to start...
Mmmm, it looked better before we attacked it like a bunch of wild animals. And then the meal showed up, OMG...
LOVE doesn't even begin to describe how good these pizzas were...
Happy Mamala...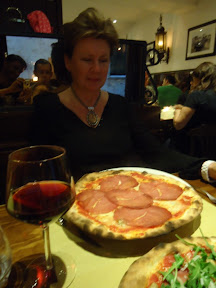 Just phenomenal! Oh and Ray got the biggest calzone I have ever seen in my entire life...
This place truly lived up to it's reputation, it is the best pizza I have ever had, just amazing, we all cleared our plates and still managed to force down some dessert...
Strawberries and marscapone cheese and some chocolate gelato! Another perfect night was winding down. We asked for the bill and this showed up instead...
Dark chocolate cups with a melon liquor inside it, YUM!
Thanks Venice for an amazing couple of days. Off to Florence in the morning...
And as we got close to the hotel, we couldn't help but get more gelato...
Mmm chocolate mint gelato...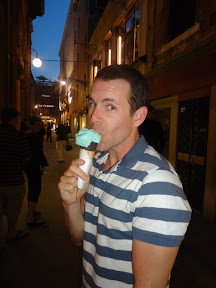 And thats all for tonight folks, more when we get to Florence. Ciao!
Posted using BlogPress from my iPad
Location:Venice, Italy