We unpacked for a little bit and left our lovely little hotel to wander the streets of Florence...
Brad suggested we check out the Duomo in the center of the city. I agreed what could be scary about an old Church right? We walked over to It and I have to say it was beyond impressive that humans actually constructed something this massive...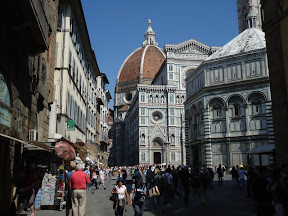 And here are some shots from inside, I don't know if we were allowed to take them but meh whatever, no one told us to stop...
And this is the painting on the inside of the dome...
It's the battle between Heaven and Hell for the soul of man...
Incredible right? Well while I was still in awe, that is when Brad dropped the bomb on us! He said see those specs at the top of the big dome (it's impossible to see in the picture because it is THAT high), those are people, and we are walking up there! Um Homie say what!?!
Anyone who knows me knows that I am freaked out by heights and enclosed spaces so yeah the idea of walking up 1000 plus steps in a confined space up to a small platform thousands of feet in the air is not my cup of tea. I'd rather be at the bar having cocktails, but sadly the Duomo did not have a cocktail bar, so reluctantly up we went...
There was a steady line of people and about 1 minuscule window every hundred steps, oh yeah I was pretty sure this was the end. As we kept getting higher and higher, the walls got tighter and tighter. Apparently ancient Italians were the size of Snooki (more on than later)...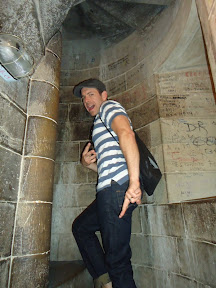 Brad was having the time of his life...
I on the other hand was having less than the time of my life...
Eventually we finally made it to the top after about 30 minutes of walking up stairs, so yeah we are the idiots who paid 8 euros to exercise! No wonder people in Europe think Americans are stupid! I kid, I kid. Once we stepped outside I was completely blown away...
Brad still didn't have a care in the world, even though we were literally standing on top of the world, we were that high...
I had only one care in the world, not falling a mile to my death...
Eventually I calmed down, well calmed down enough to smile, sorta...
But in all seriousness it was one of the most spectacular views I have ever seen...
But despite the beauty, I was ready to get down and go have a cocktail or 12 or at least 2 bottles of wine!
On the way to get food, Brad got accosted by a street performer...
I pretty much felt like this was Karma for making me climb the Duomo of Death.
We also strolled by the Ponte Vecchio, it's a bridge full of little shops...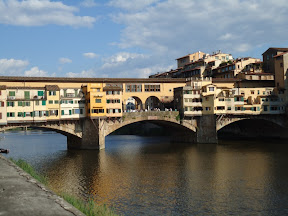 But then that Duomo Karma backfired on me because we walked right into the Jersey Shore crew...
For those of you not in the know, my show Jersey Shore is shooting in Florence right now too, so "Operation Avoid My Co-Workers" is in full effect!
I bolted when I saw them, but still managed to do a bit with a statue in front of the Palazzo Pitti...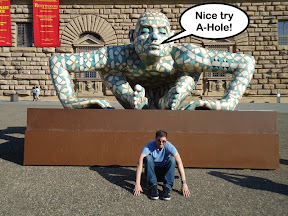 Okay that bit failed, it is hard to be that flexible! But eventually we decided that it was time to grab a bite and we found this place...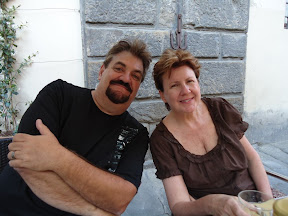 After a long day of train-ing and Duomo-ing we were ready to stuff our faces and also I was ready to drink my face off. We started out with a few appetizers...
The thing on the right was fried pizza dough with prosciutto and some kind of Brie like cheese! Holy crap it was delicious, we were pretty much fighting over it.
Oh and the wine was a flowin! We knocked back 1 bottle pretty quick, and Ray and Mamala were getting lovey dovey...
And then the main course showed up, OMG...
Thick spaghetti with meat sauce...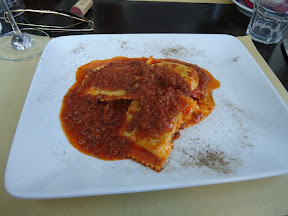 Cheese and Herb stuffed Ravioi with meat sauce...
And Brad and Mamala had Ossobucco with potatoes!
The food was beyond incredible, best food we have had on the trip so far...
We even managed to force down some dessert...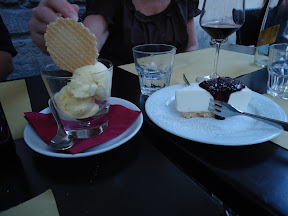 Mmmm now off to bed, going to see the Uffizi Museum tomorrow. Thanks for a great first night Florence...
Ciao Bella!
Posted using BlogPress from my iPad
Location:Florence Italy