I said bye to Asan and hauled ass through Heathrow security, and by hauled ass I mean crawled because apparently everyone in line in front of me just realized that you can't carry liquor through security. The guy in front of me spoke perfect English and was irate when he was told he couldn't bring his giant bottle of Bourbon through security, really?!?
Anyway, I made it through security and managed to find B-rad and the folks and we hopped on the plane to Venice. Auf Weidersehen Germany, thanks for the memories, and ciao Italy!
We boarded our water taxi for Venice in the rain, good times...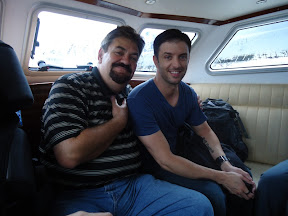 Mamala was so cute and excited in the taxi, she just kept looking put the window...
Which consequently led to the girl next to Brad getting hit with a rogue wave, I felt bad, except I started giggling, meh, whatever.
Eventually we got to our hotel the Bonvechhiati hotel yay!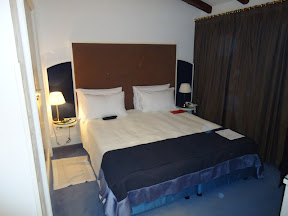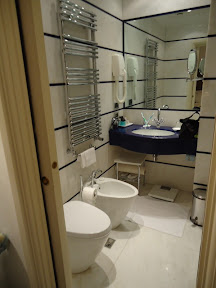 It is a charming little hotel in the heart of Venice. It even has a view, weooo...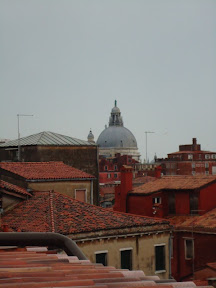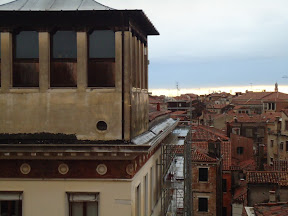 After getting settled,, despite the rain, we decided to go and explore a little, and by explore I mean get lost everywhere, which is pretty much all people do in Venice is get lost, because it makes no sense here...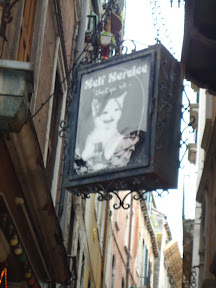 Apparently cats are self serve here, hmm. And I think this is the secret doorway to Narnia...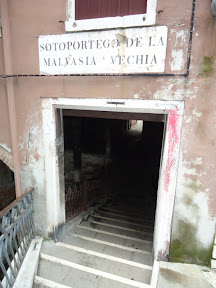 I do NYOT want to go to there!
So we headed off into the rain to check out things. B-rad's parents were in awe with Venice, and let's face it who wouldn't be...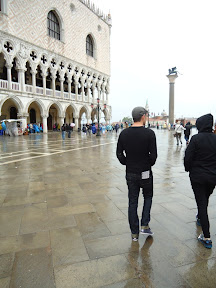 Aww the B-rad's...
Aww the Me and B-rad...
Aww the Dawson's, sensing a pattern here?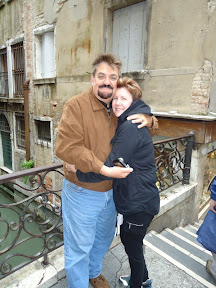 Oh and this is my interpretation of that Ah-Ha video...
And also apparently this building didn't have a V-8 today...
Shut up, I'm tired and random, don't question me! So as the rain picked up, we wandered a little more in this beautiful city...
There are so many narrow little streets to wander around and get lost in, hours can pass by in a few minutes...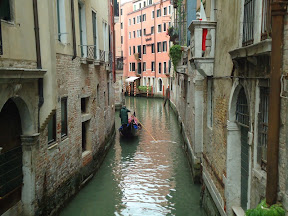 And then we started doing bits...here is Mamala doing her Eva Perron impression on the steps of the Venice Opera house...
B-rad is NYOT ready for his closeup...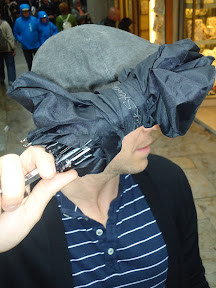 After we were wet and freezing enough we decided that it was time for us to get our eat on. We found a great little restaurant and stuffed our faces with pasta and red wine and pannecotta for dessert, delicious!!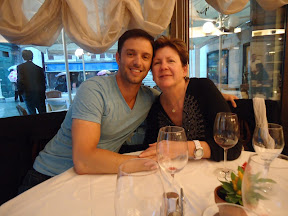 And we got back to the hotel and it was PACKED with tourists checking in so we decided to take the stairs. Apparently taking the stairs makes Mamala crack up...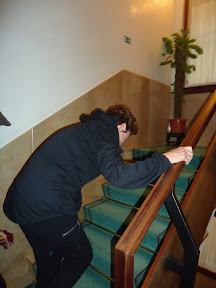 I'm still not actually sure why, but it was hilarious. Great first night in Italy. Ciao everyone, night night.
Posted using BlogPress from my iPad
Location:Venice, Italy