It turns out that not only was Brad over Rome yesterday, it turns out he is also highly allergic to it. So today we took it pretty easy during the day and we got Brad some allergy medication...
We didn't end up leaving the hotel room till about 3...
But by then Brad was feeling a lot better!
Today we decided to go to try and find the Pantheon. The Pantheon is an Ancient temple to all the gods of Rome, it's one of the older building in Rome. The interesting part is that when Christianity became the main religion of Rome, all of the Pagan statues were removed in favor of images from Christianity.
I was pretty stoked to see it, too bad it is virtually impossible to find! The thing with Rome is that even with a map you still have absolutely no idea where you are going!
We did find some super random places as we were walking like this place...
Um okay, who brings a baby to a bar? Oh and this place...
I'm not sure what this was, but I'm pretty are that we don't want to go through there. I had images of Groundhogs Day flashing through my head, like we would just be wandering the streets or Rome for eternity!
Also as we wandered aimlessly we stumbled upon the Trevi Fountain...
Just as impressive during the day as it is at night...
Yeah fountain monkey arms...
So pretty and it was still pretty hot so we just wanted to jump in the fountain...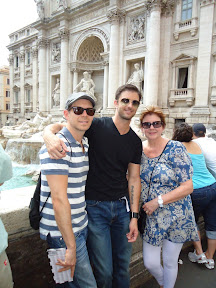 Then we were off again still searching for the stupid Pantheon, I was beginning to lose hope! We kept seeing really big random stuff like this...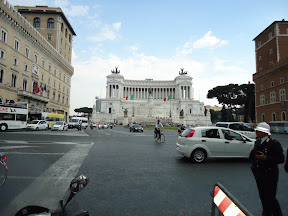 No idea what it is but it was HUGE! And this...
And this, the Church of Santa Maris Blah Blah Blah! Petty right?!? After another 40 days and 40 nights, we finally saw a light at the end of the tunnel...
HALLELUJAH!!! We made it and wow was it impressive...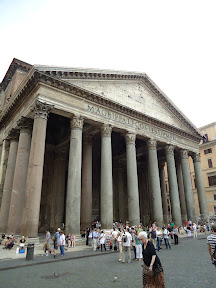 It's pretty massive...
And it was super ginormous inside too, and had a hole in the center...
Not the best architectural idea, but whatever. It was pretty impressive nonetheless...
And apparently the pagans were okay with flash photography...
Thats all for now, it's about to pour so we are going to try and find a Piazza Navona before we drown, ciao!
Posted using BlogPress from my iPad
Location:Rome Italy