Even though it looked like it was going to rain, it never did. So that was great except we and about 500 other people all got yelled at by this traffic cop...
Because apparently we were not following the traffic rules, except here is the thing, in Rome, THERE ARE NO TRAFFIC RULES! It is a complete free for all.
Eventually we did find Piazza Navona and again, just amazing and huge...
So many huge things to see in Rome...
But it was way crowded and touristy...
So you know what that means...cocktail o'clock! We found this cute little place right in the Piazza...
Cheers...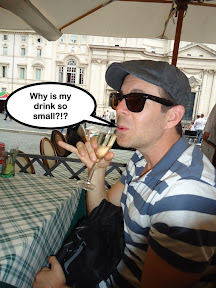 Brad's drink was like baby size, maybe from that baby bar from earlier...
Mamala tried and failed to hide her beer...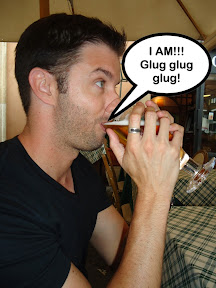 I was fine with my "medium" slash jumbo beer...
And apparently Brad's thimble Prosecco was pretty potent...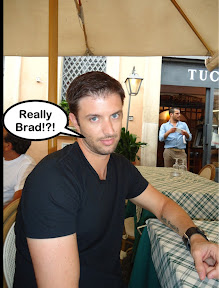 After cocktail hour we decided to wander around some more before dinner. That is where the weirdos came out...
Uhm ya there was no wind...
And this guy was like a weird creepy Cowboy/Statue/Vampire guy...
But Mamala took care of it...
Mamala also saw a cute neighborhood just off the Piazza...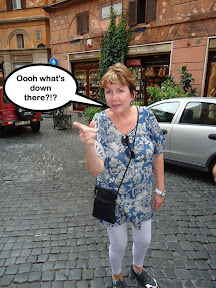 And Mamala did not steer us wrong because at the end of the street we ran smack into the Castel San Angelo...
I mean really...
And we also had a nice view of the river that runs through Rome...
And that is the Vatican in the background! We are going there tomorrow for my birthday. The sun was starting to set and it was just magical...
Again its like living in a postcard...
Just too much...
I really don't want this trip to end...
It's been an amazing couple of weeks! But now let's get to the rude part of the night. We found this cute restaurant back in the little quiet square, it looked perfect...
I mean look how cute...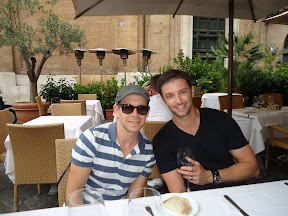 There were even real priests from the Vatican there having cocktails...
But that is where the cute ended...
Because our waiter was a grumpy old douche! I didn't get a picture of him, but here is an artists recreation...
He was rude and got our order totally wrong! Thankfully he could mess up the food when it finally all came out...
Carpaccio with Buffalo Mozzarella...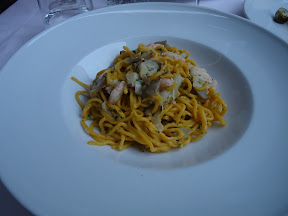 Spaghetti with Scampi and Artichokes...
Chicken with Pink Grapefruit, yum! So that was fine and then I tried to pay and Grumpy McOldFart came out with the credit card machine and when it wouldn't swipe my card he said he couldn't input the number manually.
Uhm ya what a load of crap, so I won in the end because on our bill of 141 euros, I left him the change which was 3 euros, and if you ask me it was 3 euros too much!
I was a wee riled up after this so to calm me down, you guess it, GELATO!!! And this might have been the best pistachio gelato I have ever had...
Mmm nutty green goodness...
That's all for tonight, off to go relax since we have to be at the Vatican at the crack of dawn to get our Catholicism on! Ciao!!
Posted using BlogPress from my iPad
Location:Rome Italy