This morning we woke up and it was absolutely spectacular outside. We started getting ready and a thing happened. It turns out that the shower can also function as a prison, here is a recreation of what happened...
The door is curved in such a way that you literally can't get out or really move if you are taller than 4ft, and seeing as I am over 6ft it didn't end well. I also only realized this after the shower was on and I couldn't reach the shampoo or soap. Oh ya and the shower head kept falling down, and spraying everywhere, so I nearly drowned in the shower of death!
After I swam to safety, we grabbed a bite downstairs and then headed out to San Marco square...
Ray was super excited, and I found a kindred spirit, he actually takes more pictures than me...
If you haven't been to Venice, Piazza San Marco is right on the water and there are birds EVERYWHERE! See...
Yeah that kid now has Bird Flu or something. Next we went into the Basilica Di San Marco, this amazing Church in the middle of Venice. You can't take pictures, which didn't really slow Ray down all that much, but as we were walking around Mamala thought she saw a piece of one of the mosaics on the floor and grabbed it as an authentic souvenir!
Except a few minutes later, when her hand and pocket were sticky, Mamala realized it was just a piece of candy, a very pretty piece of candy, but candy nonetheless...
After walking through the Basilica they let you walk up top to an amazing view...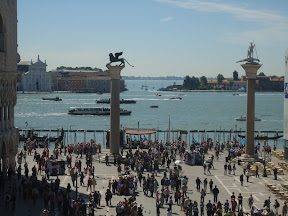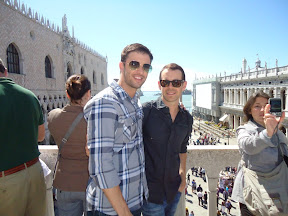 Brad and Mamala posed for this cute pic...
And then started doing bits...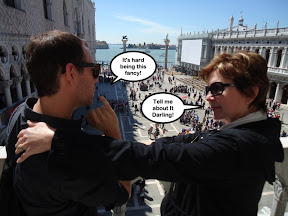 Next we headed over to the Palace of the Doge, or the Duke of Venice.
The Doge had some pretty fancy digs...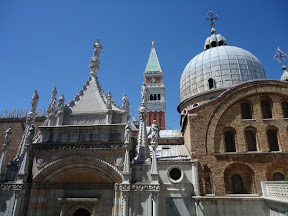 Once we got here, Brad told a story of the last time he went to the Doge's Palace they had a tour guide that every sentence she said started with "the Doge himself...", which he said led to them all giggling throughout their private tour.
So as we walked Brad tried to relive that trip. It was pretty funny...
At first...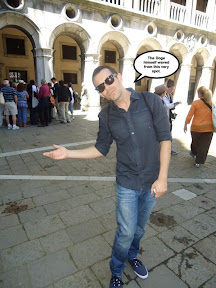 Then it was less funny...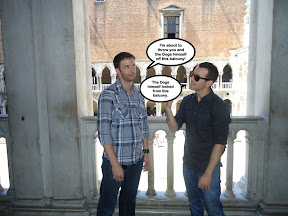 Then it wasn't! I kid, the Palace was pretty spectacular, and Ray only got told twice "signore no photo per favore!"
Once again the view was amazing...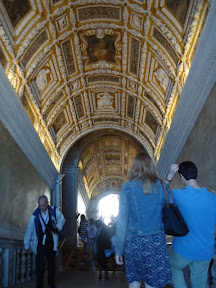 There were only one or two random things, like these on the wall, which I guess are like really old voodoo dolls or something...
And this statue of a woman and palm tree, uhm okay...
After getting our culture on we wanted to avoid the tourists for a bit...
We went to Harry's Bar or Cipriani's which is where Bellini's started! I know mmm...
After boozing up we headed over to Academia the artists section of Venice...
As we crossed the bridge we saw this cute little cafe right on the Grand Canal and stopped for lunch...
Did I mention that it was pizza o'clock...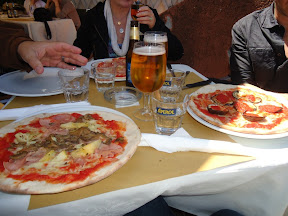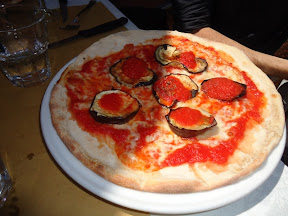 I could not shove the pizza in my fat face fast enough...
After lunch we started walking around. There is something about Venice that just makes you slow down and appreciate every moment...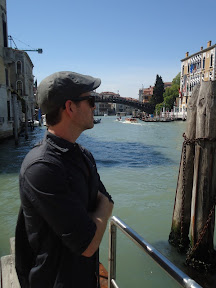 Like this guy playing the guitar in an alley with a dog that couldn't have looked more bored...
Or this Gondollierie that was NYOT in the mood to work...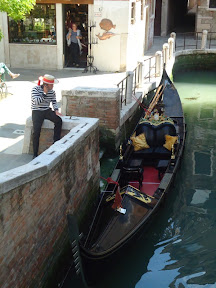 At the end of the Academia district we came across the Santa Maria Della Salute Cathedral, again spectacular...
Another great day in this beautiful city, we are heading back to the room now so we can relax and then go out to dinner tonight. Ciao!
Posted using BlogPress from my iPad
Location:Rio Terà de le Colonne,Venice,Italy