After getting back to Venice we decided to grab a coffee before taking a Gondola ride through the city. We found this charming little cafe in Piazza San Marco. Well I should say that it was charming until we saw that they charged 5 euros per person for the band nearby...
And like 8 euros for a freaking cappuccino, but it was pretty so we decided to stay. And then the band started playing a familiar song...
Oh yeah we got tourist trapped! Oh well, we made the best of it...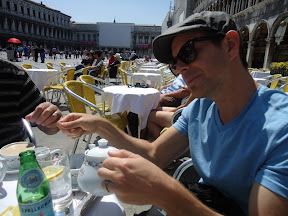 After our 7 million euro snack we went to go catch a Gondola ride. And I had this picture in my head of some older Italian with white hair and a hat singing "O Solo Mio" to us. Instead we got this guy...
He was much younger and covered in tattoos. We will call him "Hot Marco" for obvious reasons...
So Hot Marco took us through the canals of Venice, what a beautiful way to see the city...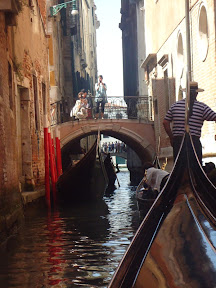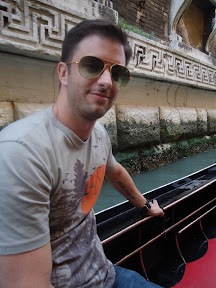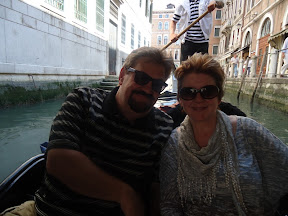 Then Hot Marco took us out into the Grand Canal, all while he was wheeling and dealing and you know being hot and all...
Like I said what a spectacular last day in Venice. We did get into a little Venetian traffic jam on the way back...
And aww look at the puppy...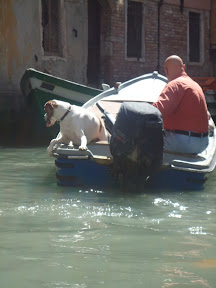 It's just such a different way of life here and it has been amazing to just be a part of the city, even if it was only for a few days. Hot Marco dropped us off safely at out stop...
Bye Hot Marco, we'll miss you! Now it's off to relax for a few hours before one last dinner in the city. Ciao!
Posted using BlogPress from my iPad
Location:Venice, Italy