We met up this morning for breakfast in our cute little breakfast room run by the Cutest waitress in the world who yells "BON GIORNO!" so loud that you either slightly wet your pants or drop your plate of food.
As we sat I talked about the shower situation in this hotel. I was glad that it wasn't the prison shower like the shower in Venice, but it still posed it's own set of problems. You see there is this set of knobs...
Which one would think would control everything, but one would be incorrect, because there is also this lever across the wall...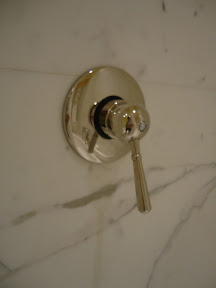 Which I came to find out this morning when everyone told me, controls the temperature as well as turning this on...
Well ya when I showered I figured out that the lever turned on the shower head, but not controlled the temperature too, so I turned on the first set of knobs as well and had really warm water filling up the tub, but pretty cold water coming form the shower head, because I didn't change that temperature. Thus I dub this "the shower of confusion".
And I'm still not quite sure what the crap this thing is for, notice that it also has knobs...
Anyway after I was thoroughly and justifiably mocked for not knowing how to shower in Europe, we headed off to the Uffizi Gallery.
We briefly got stuck behind one of the 7 billion tour groups in the square, which Brad was none too pleased with...
I saw this zodiac sun dial thing built by Galileo and couldn't help myself...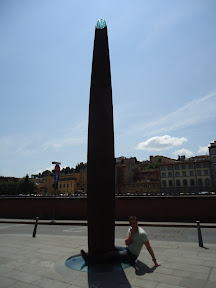 Then Mamala stopped and bought some jewelry...
Which she showed off to her new friend...
Awww...
She may have liked her new friend a lot...
Besides the live statues, the outside of the Uffizi is littered with giant statues...
And my long Monkey arms work great for group photos...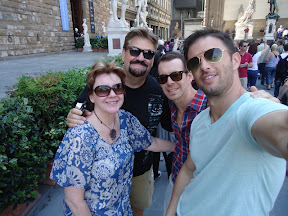 As we waited to go in, Brad and Mamala noticed something interesting on one of the statues...
Do you see it? How about now...
Still haven't figured it out? Maybe this will help...
And here is a close up...
So after the camel toe incident, we were somehow allowed to go into the Uffizi. Sadly we werent allowed to take any pictures, but we did get to see the Birth of Venus...
It is even more amazing in person. After we got our culture on, we went to the Pitti Palace and the Boboli Gardens that are behind it. Is it weird that this is the first thing I thought of when we walked in...
The Gardens and Palace are beyond spectacular...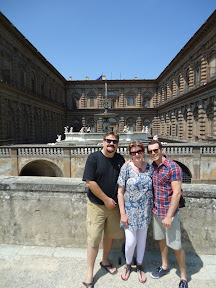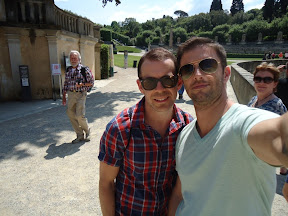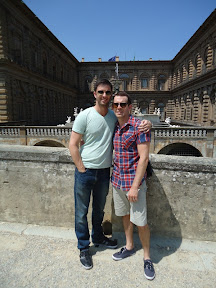 And Brad having been here before went into tour guide mode...
but we did have to go up this...
Ugh no more uphill please! And we wandered through enclosed paths like this...
But once we got up there, it was well worth it, the view was amazing...
Just beyond beautiful...
Yay for Monkey arms...
Aww aren't they cute!
So we climbed and climbed and climbed and way up at the top of the world, the view was even more breathtaking...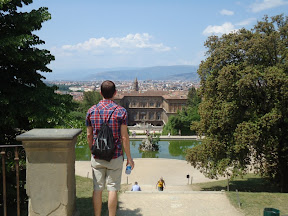 Brad was in Heaven, this might be his favorite place in the world...
I have to agree it was so peaceful all the way up there...
And these flowers were so fragrant, they literally smelled like perfume. Oh and apparently Brad found our new house...
Not too bad right...
All in all another superb day in Florence...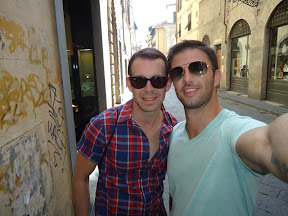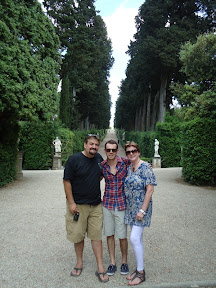 Off to chill for a few hours and then it is off to dinner, ciao!
Posted using BlogPress from my iPad
Location:Florence Italy