This morning we were all a little slow moving, maybe all the walking is catching up with us. Ray and Mamala are usually up and have had breakfast before we even leave the room, but today we actually woke them up.
We grabbed a quick bite downstairs and headed off to the Galleria L'Accademia to go and see the Statue of David! We had our map in hand and about 30 minutes to get there, what could go wrong right? Well here's the thing, we got so turned around that we pretty much did a giant loop around the Duomo...
It wasn't until we saw this for the second time that we thought something was a miss...
Kind of hard to confuse a giant gold door with anything else...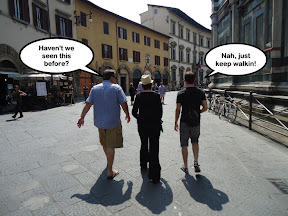 Eventually we realized our mistake and hauled butt over to the Galleria. We made it with about 10 minutes to spare for our reservation time. You aren't allowed to take pictures of The Statue of David (which consequently did not stop Ray the Deviant from snapping a few, what can I say he is braver that I), but it is more spectacular than you can possibly imagine...
Just the size of him alone is shocking as he is about 20 feet tall if I had to guess. And the marble is so smooth it actually looks like skin, no wonder they consider this one of his masterpieces.
It was definitely worth the price of admission...
Mamala even wanted to get some souvenirs...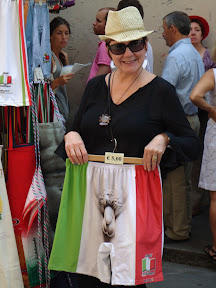 After seeing David we wanted to check out the Piazzale Michaelangelo which was clear across town, so off we went with map in hand, again what could go wrong right? And again F...
The neighborhood got decidedly more crappy as we went...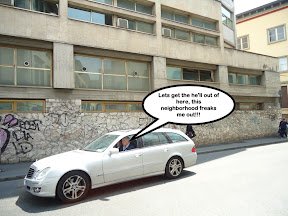 It seemed like even the names of the streets and buildings started getting crappier...
I'm pretty sure that means "Crap Hotel", they must be a 2 diamond hotel...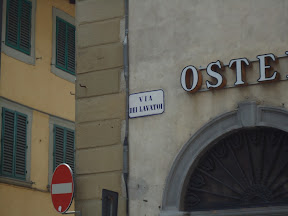 And that sign definitely says "Lavatory Road"! See at least the people of Florence are up front about things. Finally we started seeing signs of civilization returning...
Yay, we were back in pretty Florence...
And then we stumbled upon this cute little place for lunch...
It was so cute, even the drinks were cute...
So of course we pigged out on some delicious food...
Mmm mushroom risotto...
We were full and happy...
Hardcore Mamala...
After eating we headed off to the Piazzale...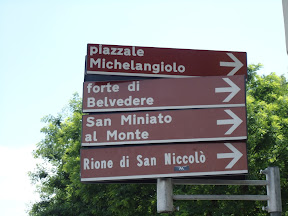 This is when that bad feeling I had at the Boboli Gardens came back to me. I felt we were being duped, tricked if you will into something we might not want to do...
Brad was leading the way...
I was feeling very uneasy, and then we turned the corner and Brad started laughing...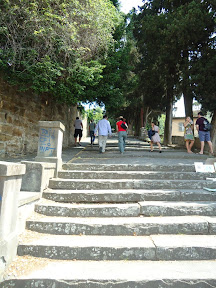 It's hard to tell in the picture but the stairs looked like they just kept going and going. And of course Brad was tickled pink...
I was less than tickled...
Mamala had the right idea...
We got up to what I thought was the end and I was pretty proud of myself, that wasn't so bad...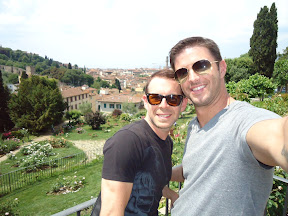 Good ole Monkey arms...
But then I saw this...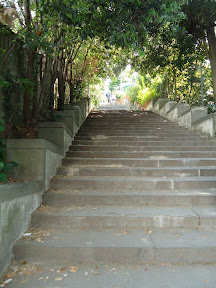 Why does Brad hate us...
And also where is that electric wheelchair thing that the nice old lady in Gremlins got to ride in, at this point I would probably be fine with it chucking me out the window like it did to sed nice old lady in the movie.
Slowly but surely we climbed the rest of the 3 billion steps to get to the top of the Piazzale, and once again Brad was right, I may have wanted to hurt him on the way up, but once we were up there I was happy we did it...
Amazing right? Totally worth the suffering...
It was like a postcard...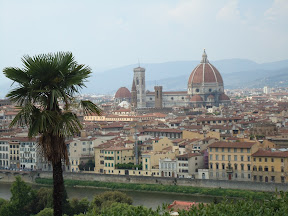 Who knew they had Palm trees in Florence. I was definitely glad we went up there. So far Florence has far exceeded my expectations...
After taking some photos we sat down at a little cafe on top of the world to celebrate our last afternoon in Florence...
Brad is so fancy with his Prosecco...
Mamala and I opted for jumbo beers instead! Thanks Florence for another great day, off to go home and chill before our last dinner tonight...
Ciao!
Posted using BlogPress from my iPad
Location:Florence Italy