After getting some much needed zzzzz's we headed out at dusk to go grab some dinner. Walking through Florence at dusk is really like walking through a postcard...
It just doesn't get more beautiful than this...
Okay maybe it does...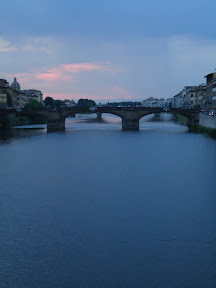 Dusk on the Ponte Vecchio is magical...
After strolling we ended up at a cute little restaurant just off the Ponte Vecchio. We were all in the mood for some pasta...
Mmmm spaghetti carbonara...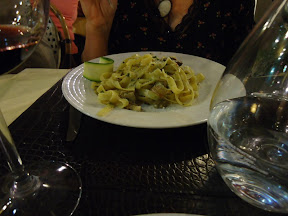 Yum, tagliatelle e funghi. Did I mention that the wine was also a flowin? Ater two days of pretty strenuous tourist-ing we were all a little wiped out and loopy and the wine was not helping.
After we knocked back the first bottle, Ray and Brad were done, but seeing as me and Mamala are red wine drinking buddies we weren't finished yet, so we got this baby bottle...
But dont be fooled, this little baby packs a whollop! When the waiter came around and asked about dessert, Mamala forgot that we were in Italy and started answering in Spanish. It was pretty amazing.
The best part was after we all had a good laugh about Mamala speaking the wrong language, the busboy came and took her plate, and she said, and I kid you not, "gracias"' and it took her a minute to realize why we were cracking up. When she figured it out, it looked like this...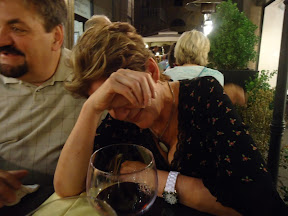 Awesome dinner, great food, great company, great wine, what more could you ask for....one word, GELATO!
After dinner we strolled down to this amazing little gelato shop and we all got dessert, thank you baby Jesus for inventing Lactaid so I can enjoy the dairy goodness too...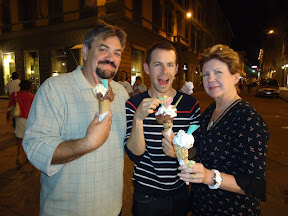 Mmmm lactose...
This was also the exact moment that I had my 2nd Jersey Shore run in. Just after this bite finished, Sammi, Deena and Snooki walk by. I pretty much bolted right into the jewelry store next door, which consequently had some lovely pieces if anyone is interested. Thankfully, I managed to avoid several of my co-workers that walked by within 2 feet of me. Whew!
After this close encounter we decided to have a nightcap at the cute little hotel bar next door to our hotel...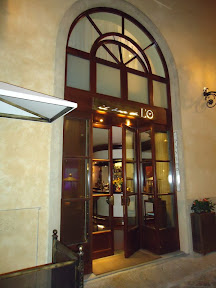 It was very funky and fun in there...
We enjoyed our cocktails. I had a gin and tonic the size of my head. Now it is time to head off to bed. We're going to see the Statue of David tomorrow and we might try and rent a car to drive around Tuscany, oh yeah it's gonna be a disaster...
Night night Florence, thanks for another great night, ciao!
Posted using BlogPress from my iPad
Location:Florence Italy